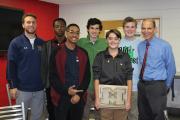 "Our group was very energized by our visit with you. Badger Alloys is a gem of a business. It's great to see such high-quality products being made right here in Wisconsin . . . and for so many years."
– David Vogt, teacher, Marquette University High School
David Vogt's engineering students from Marquette University High School got a first-hand look at the manufacturing process October 18 when they visited Badger Alloys, a full-service sand foundry, pattern shop and machine shop located in Milwaukee. They learned about the latest in technology and the importance of engineers in the design, molding, pouring and machining of a casting. Their tour included a demonstration of solidification software and the company's robot, which allows for patternless molding and therefore faster/lower capital cost solutions to traditional casting processes. The students were able to see their school logo made into a casting, from the robotically milled mold through machined, finished casting. 
Related Files: 
Read the press release